Gadgets have become an integral part of our lives – we can no longer imagine even one day without a phone or a fitness bracelet. Smart items relieve us of unnecessary hassle and significantly reduce our daily routine.
With the development of progress, gadgets began to be made not only for adults and children, but even for animals. They come in handy for both owners and their pets. With the help of handy gadgets, it is possible to make pet care easy and effortless.
We compiled the top top top gadgets for cats and dogs that are useful to any pet owner!
Lighting leash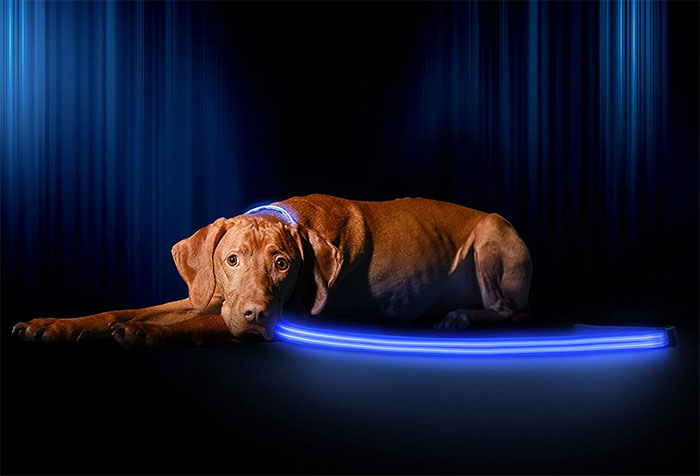 Before going to bed it is necessary to take the dog for a walk, and here the owner may be in danger – in the dark, it is very bad to see. It is for evening and night walks created a handy glowing leash, which can be seen from afar. This gadget is especially handy on poorly lit roads, making it much easier for the driver to see the person with the dog and slow down in time.
Automatic laser
All cat owners know how they love to chase the red laser dot. But not always the owner has the opportunity to play with the pet, so a handy gadget comes to the rescue. It can rotate 360 degrees, has different speed modes and light combinations, as well as an auto-off sensor. Any cat will love a fun gadget like this!
Petcube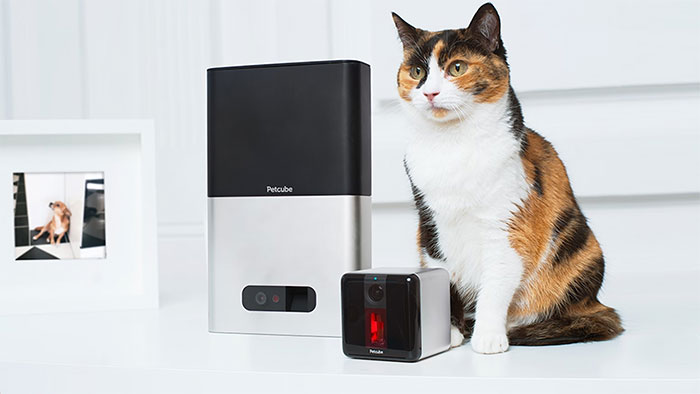 This smart pet gadget is designed with all needs in mind. It combines a camera, microphone, laser pointer, and speaker. The small cube will help the owner of the pet to watch the pet in his absence and even to talk with him. The stylish gadget will perfectly fit into any interior thanks to its minimalist design. And you can always watch and play with your pet from a safe distance.
Automatic door
All owners experience discomfort when a pet walks outside on its own. Since waiting for him at the door is not always possible, people make a hole at the entrance, into which the pet can enter itself, however, as well as other animals. A great option is a gadget with an automatic door that only opens with a special chip built into the collar!
Gadget for giving balls
When the owner is away at work all day, it's hard for a hyperactive pet to sit alone in the apartment. A handy gadget comes to the rescue that will replace the dog's ball game. The automatic ball feeder has different time and distance settings. There are also gadgets that will only throw the ball after the dog puts it back.
Food dispenser
Another handy gadget for those who are often away from home is an automatic food dispenser. With such a device, you do not need to worry about the fact that the pet will sit hungry or, on the contrary, overeat. The automatic food dispenser is controlled by an app that can be installed on a smartphone. You can even create a special meal schedule for your pet!
Water dispenser
An automatic water fountain will help relieve your dog or cat's thirst. The owner can be sure that the pet will always have fresh and delicious water. The device is equipped with an additional filter to purify and enrich the fresh water with useful trace elements. Also, all parts can be washed in the dishwasher, which makes it easy to clean.
Radio-controlled toy
The pets also like to play, so you can buy them a radio-controlled toy. It will be a real gift for both the cat and the dog. In addition to stylish home versions of toys, you can buy a radio-controlled gadget especially for the street. Such devices are made of durable and sturdy materials that are resistant to your pet's sharp teeth and claws.
GPS dog tracker
Часто в сети появляются объявления о пропажах любимых питомцев, как собак, так и кошек. Избежать эту неприятную ситуацию поможет гаджет с встроенным датчиком GPS, который поможет отследить передвижением домашнего животного в любой точке. Этот гаджет обычно встроен в ошейник, чтобы питомец не смог самостоятельно снять его. Благодаря синхронизации хозяин всегда может обнаружить своего любимца!
Фотосъемка
An interesting gadget for those who like to walk with their pet in beautiful places. This device, which is attached to the collar, will help to take unusual and cool photos. And the owner will see the world as the dog or cat sees it. With this gadget, you can add to your collection of beautiful photos, because all the pictures will be saved to your smartphone or flash drive.